Erik Blad
It's 1861 and you're leaving home to fight in a war. You have room for one snack in your gunnysack. What do you bring?
Cool Ranch Doritos.
It's 1908 and your dad brings home the first car you've ever seen. He tells you to jump in. What snack do you bring on your first car ride?
Licorice something? Wasn't all candy licorice back then?
It's 1969 and you're sitting cross-legged on a shag carpet, watching the moon landing on TV. Which snack fills the large plastic bowl in front of you?
Quisp. Since it has an astronaut on the box.
It's New Year's Eve 1999 and the threat of Y2K is looming. Which snack do you use to calm your nerves?
Dig into my stashed rations of MREs.
It's 2014 and you're writing an email. What are you putting into your face?
I get dark chocolate on my keyboard from time to time.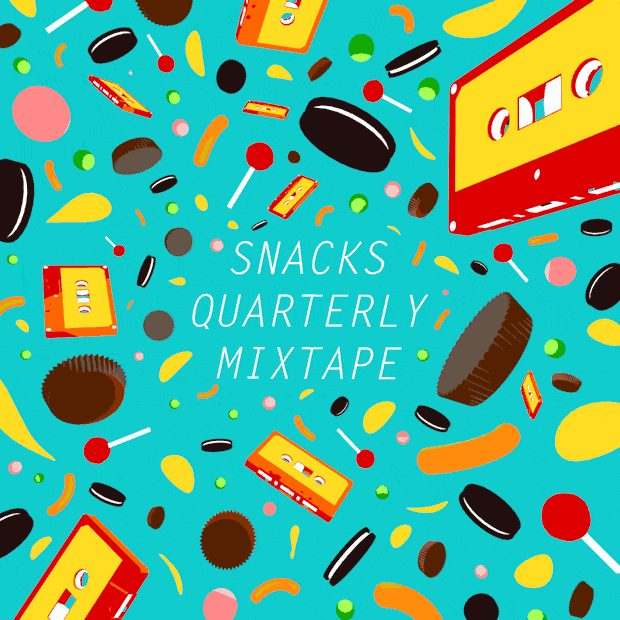 Snack-flavored sounds for when you're half in the bag or feeling crisp.
Mixed and seasoned by Erik Blad
Feels Good (Carrots and Beets) / Electra & Tara Butler / Carrot Sticks and Pickled Beets
Banana Split / Lio / 3-Scoop Banana Split
Was Dog A Doughnut? / Cat Stevens / Cinnamon Cake Donut
Pumpkin Belly / Tenor Saw / Roasted Pepitas
Tiny Sticks / ESG / Pretzel sticks
You're a Peachtree Freak on a Peachtree Street / Geno Jordan / Dried Peaches
Squash / Don Muro / Thinly sliced raw yellow squash
Sugar and Spice / Scritti Politi / Hot Cinnamon Bears
Rice Music / Masami Tsuchiya / Seaweed Rice Crisps
Land of Hunger / The Earons / Nearest available edible thing
Go Bananas (Steve Summers Mix) / Banana Chips
Peanuts / Telex / Bamba Puffed Peanuts
Honey Moon / Harry Hosono / Honey Sesame Sticks