My father grew up on a farm and doesn't eat vegetables. My father lived in Japan for four years and hasn't left the country since 1985. My father loves Florida and has worked in a warehouse for nearly 20 years. One time he was a police officer, another time he stuffed newspapers with coupons to make ends meet. He mowed cemeteries when he was a teenager. My father is a good man. That's almost everything I know about my father.
It has never been that I never wanted to know my father; I just always found better things to do with my time. He's quiet, worrisome. He's well-meaning, but there's a negativity to his comments that come from never realizing how deep emotions can go. He cried when I graduated high school and when I moved to California, every conversation in between was over the phone. In the back of my mind, he hasn't aged a day. In the back of my mind, I see my dad in a sweatshirt and sleeping shorts, watching a sitcom on TBS, the couch cushions forming to his body. In the back of my mind, I know that image is a pillar of my childhood.  An obelisk, etched with laugh lines and cherry moles. A corn-fed Atlas who holds up the world in his faded flannel shirt.
All my memories of my father I've taken for granted. All my memories of my father are me taking him for granted. A 36-year-old man watching the Pokemon movie with his son, staying up for the midnight Harry Potter releases and working twelve-hour shifts the next day. We ate a sundae at an Applebee's before waiting in line at Barnes and Noble when The Deathly Hallows came out. I said he should try to be a little healthier, maybe he should have gotten broccoli instead.
Every memory I have of my dad is punctuated with food in some way. Brands like Nabisco, Lay's, and Little Debbie acted like a Greek chorus in the flashback scenes of my childhood. He was a kind dad. When we moved from Florida to Kentucky, he bought himself a pack of licorice and me a turkey-and-cheese Lunchable from a corner store in town. He was a patient dad. I spilled the juice box it came with down the front of my shirt and he used an old sun-bleached bandana tied on the rearview mirror to clean me up. He was a generous dad. He would send me boxes with nothing in them but taffy when I was in college. For my birthday this year, he gave me a gift card to Chipotle. Every morning in high school my dad would stop at a gas station and get himself a large Diet Coke and a honeybun. He would get me a pack of gum and a cappuccino from a vending machine. These are some of the best memories I have of my dad, who still gets excited when my mother makes pot roast after 25 years of marriage. There's a tenderness to him, a deep love of food with no pretension, other than enjoying what he likes. He doesn't know what a crème anglaise is or a beignet, but he's happy eating Blue Bunny ice cream and a donut made from Pillsbury biscuit dough on a Sunday morning. He'd fry them himself in oil and bacon grease and lay them on a bed of paper towels. He'd shake them in a brown paper bag of confectioner's sugar and we'd sit in the living room and eat them in front of the TV. Silent. Satisfied. This is the best memory I have of my father, the greatest man I know.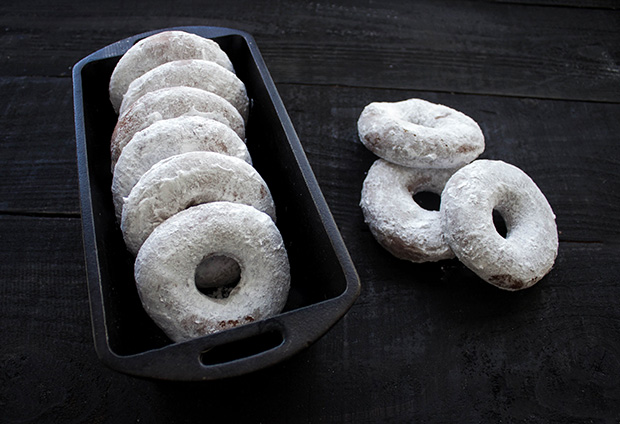 Simple Powdered Donuts
Yields 12-18
Inspired by those Sunday mornings with my father, these donuts are easy and delicious. A little more work than frying Pillsbury biscuit dough, but so worth it in the end. Unpretentious, classic, and satisfying. That's how food should be.
Ingredients:
¾ cup whole milk, warmed
¼ cup white sugar
¼ teaspoon salt
2 teaspoon yeast (I used quick active, but it produced a yeastier flavor)
2 tablespoon butter
2 tablespoon shortening (or all butter, if you're not a fan of shortening)
1 egg
1 teaspoon vanilla
3 cup flour
¾ teaspoon baking soda
Oil for frying
Confectioner's sugar for coating donuts (or other topping you wish)
Directions:
1. Warm milk to 105°F for yeast to proof.
2. Whisk in sugar, salt, and yeast.
3. Allow to sit for ten minutes, until bubbles are produced.
4. While waiting, melt butter and shortening in a saucepan and allow to cool in the bowl of stand mixer fitted with a dough hook attachment.
5. In a separate bowl, sift the baking soda and flour together and set aside.
6. Pour milk-yeast mixture into butter and shortening in bowl of the mixer. Add egg and vanilla.
7. Whisk all ingredients together for about a minute, until yolk is broken up (use a whisk or fork here, the dough hook will not break up the ingredients well enough.)
8. Next, add dry ingredients a small bit at a time. Do it in ¼ cup increments, taking a few seconds between scoops to make sure the liquid is getting absorbed and not a lot of flour is sticking to the side of the bowl.
9. Turn mixer up to medium and continue to mix in dry ingredients. Dough will begin to form and when it begins to pull away from side of the bowl, scrape all out and onto a floured surface.
10. Stretch and knead about five times and return to mixer.
11. Turn back on medium and mix for about two minutes.
12. Take back out, deflate once on a floured work surface, and shape into a round. Rest for ten minutes with a floured tea towel over it.
13. Lightly grease or butter a mixing bowl and place dough in bowl when done resting under towel. Roll around in the grease once to cover all sides.
14. Place plastic wrap over top and refrigerate for 8 hours to overnight. It will plump up a lot if you used highly active yeast.
15. When ready to make doughnuts, roll out onto a floured surface into a flat round about an ½ inch thick.
16. Using a biscuit cutter or cup, cut out rounds and use a smaller cutter (or even a bottle cap will work) and cut the middles out.
17. Place all rounds onto a baking sheet (you might need two) and allow to rest for ten minutes in a warm, dry place (the warmer it is, the more they puff up as they thaw a little from the fridge.)
18. While waiting, heat the oil to 375°F in a Dutch oven to fry donuts. Prep the station with a plate with about five layers of paper towels to absorb the oil.
19. Place one or two rounds onto a slotted spoon and slowly and carefully lower into frying oil. Allow to fry on each side for 5-8 seconds, turning once. They will be puffed and golden, but not brown.
20. Remove from oil quickly and allow to drain on paper towels.
21. Repeat process for remaining donuts.
22. Cool and cover with confectioner's sugar in a large bowl or paper bag.